Software: Contract Costing
Did you know that the average construction project suffers 150% cost overruns and completes more than 175% late? Pegasus CIS 5 helps combat this by giving you complete control of your contracts; you'll deliver projects on time and within budget and transform your profitability at the same time.
What is Pegasus CIS 5?
Pegasus CIS 5 provides complete control over all aspects of contracts management, from costing and timesheets through to payment applications, VAT invoicing and cash receipt matching. It is fully integrated with the Sales, Purchase and Nominal Ledgers, Cashbook and Payroll in Opera 3.
What do you get?
Unrivalled interface
Enhanced information retrieval capability, customisable screen layouts, easy-to-use workstation and multiple tabs for simplicity.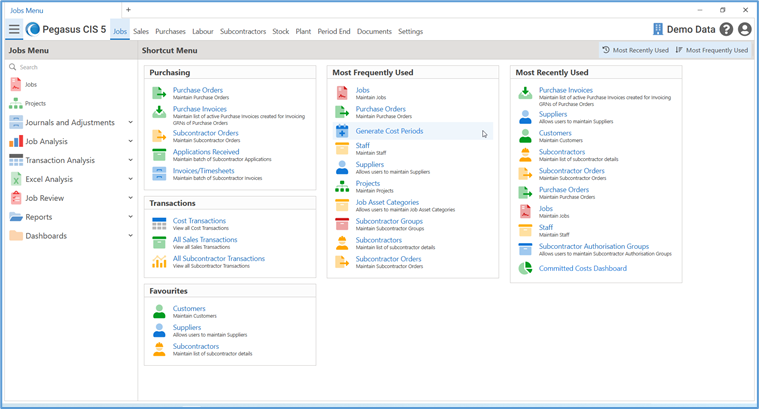 Powerful reporting capabilities
New reporting functionality takes your reporting to the next level, giving you real-time information on all your projects at the click of a button to help you make faster, smarter decisions. With Pegasus CIS 5 you'll get integrated Crystal Reports©, on-screen reporting, integrated dashboards, XRL and Microsoft Excel© integration.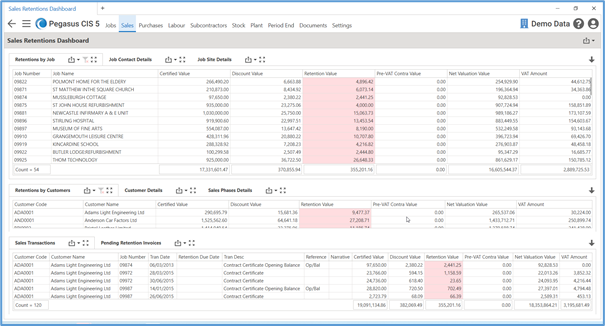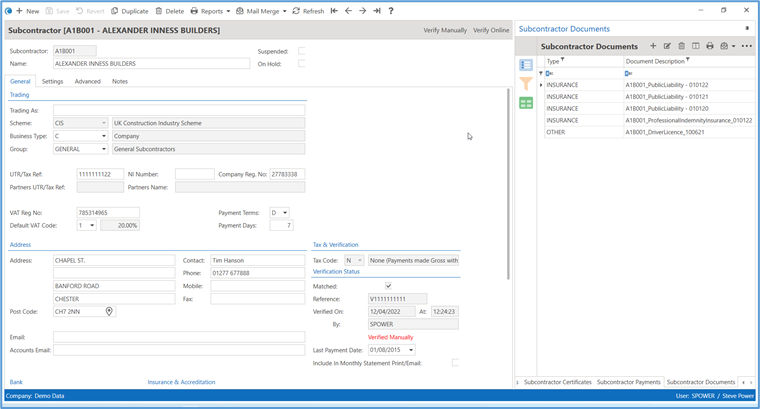 Document Management
Document Management allows you to electronically store documents against individual contracts. This useful tool improves security, reduces admin costs, saves time and improves your environmental credentials by limiting the number of paper files you hold.
CIS 5 also includes over 100 NEW enhancements! Full details of these can be found in the enhancement guide below.
Reporting
Microsoft Excel integration with XRL 
The new XRL application links Pegasus CIS 5 to Microsoft Excel at the click of a button so you don't need to copy and paste, re-key or calculate formulas. Once in Excel you can delve deeper into your data and share spreadsheets easily throughout your business.
Dashboards and on-screen reporting
See the status of your projects and finances at the click of a button, with easy-to-view visuals.
Crystal reports
A smart reporting wizard to give you even more insight.
Dashboard designer
Design custom made Dashboards to suit your business.
Contract Costing
Phases
Job heads
Cost and revenue transactions
Committed costs
Actual/budget variance
CVR reporting
Contract Purchasing
Bill of requirements
Purchase orders
Goods received notes
Purchase invoice register
Committed costs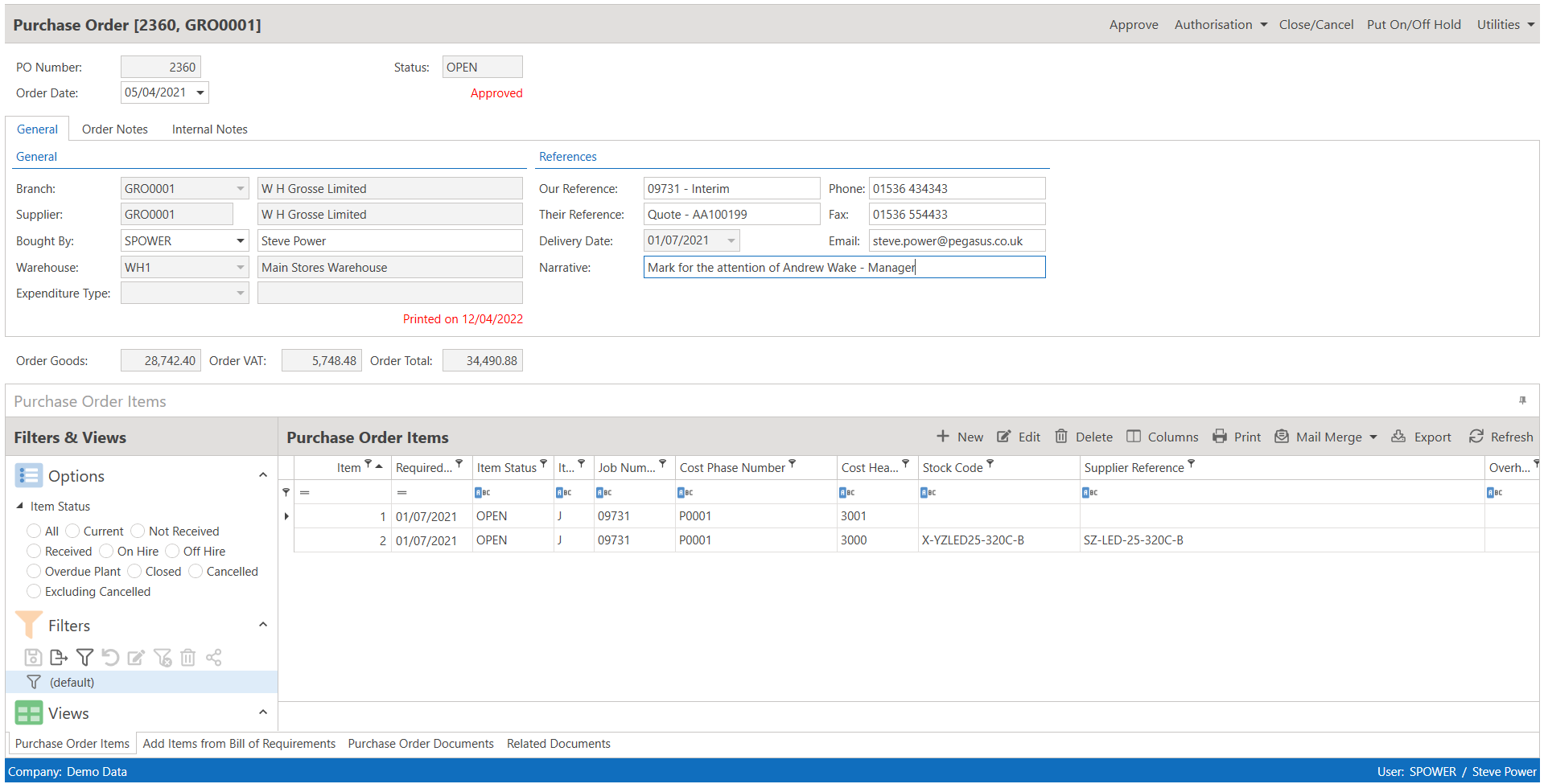 Plant Hire
Internal and external plant hire
On hire/off hire
Plant returns
Overdue plant
Transfer plant between jobs
Linked Integration
The following diagram details the main data flow between Pegasus CIS and Opera 3. It is also possible to integrate Pegasus CIS into market-leading accounting solutions including Sage 50, Sage 200 and Sage Payroll.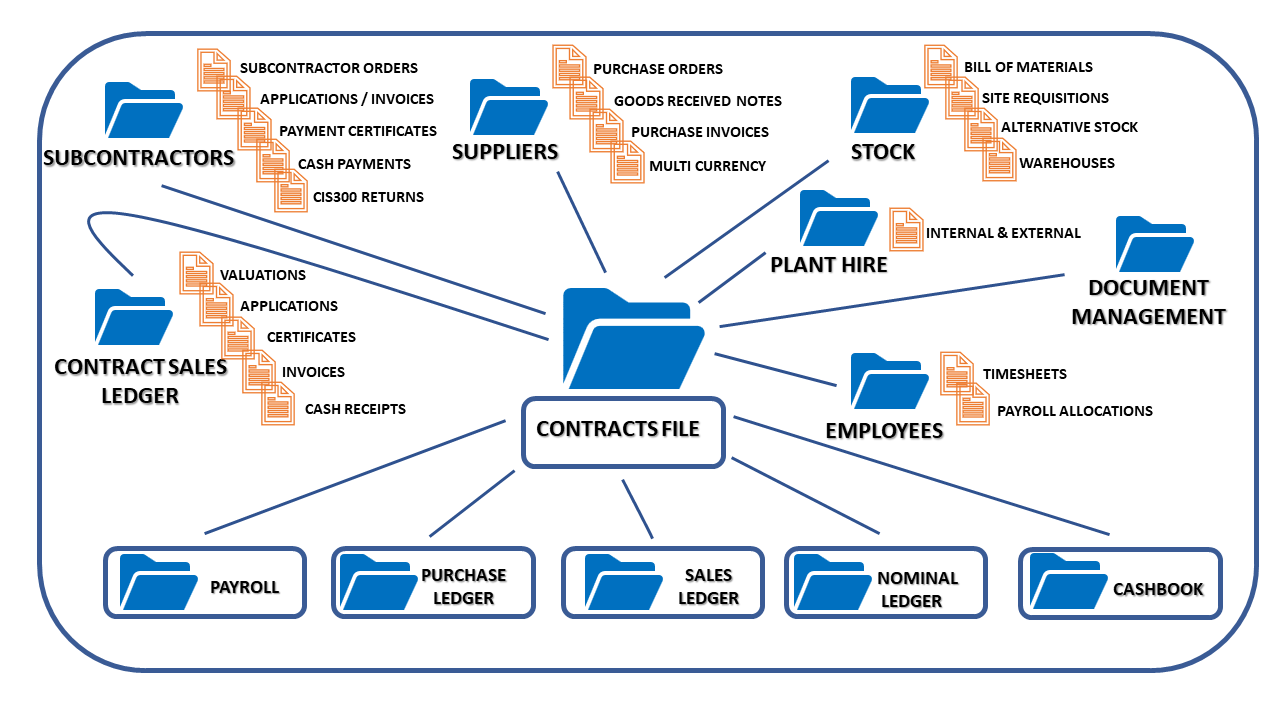 Contract Sales
Valuations/measurement
Payment applications and certificates
Invoicing
Aged debt
Retention
Main contractor discount
Deferred VAT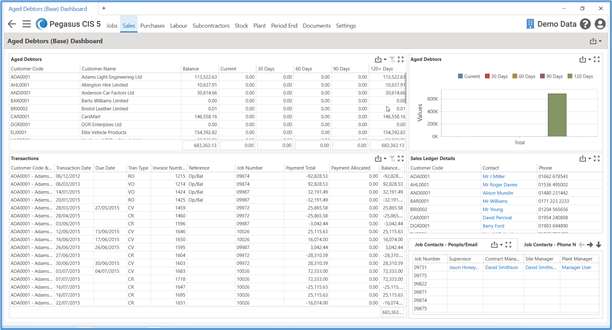 Stock Control
Monitor stock levels and movement
Allocate and issue stock to jobs
CIS Subcontractrors
Online verification
Subcontractor orders
Invoices/applications/timesheets
Reverse Charge VAT
Payment certificates and statements
Online CIS300 monthly return
Self billing
Authenticated VAT receipts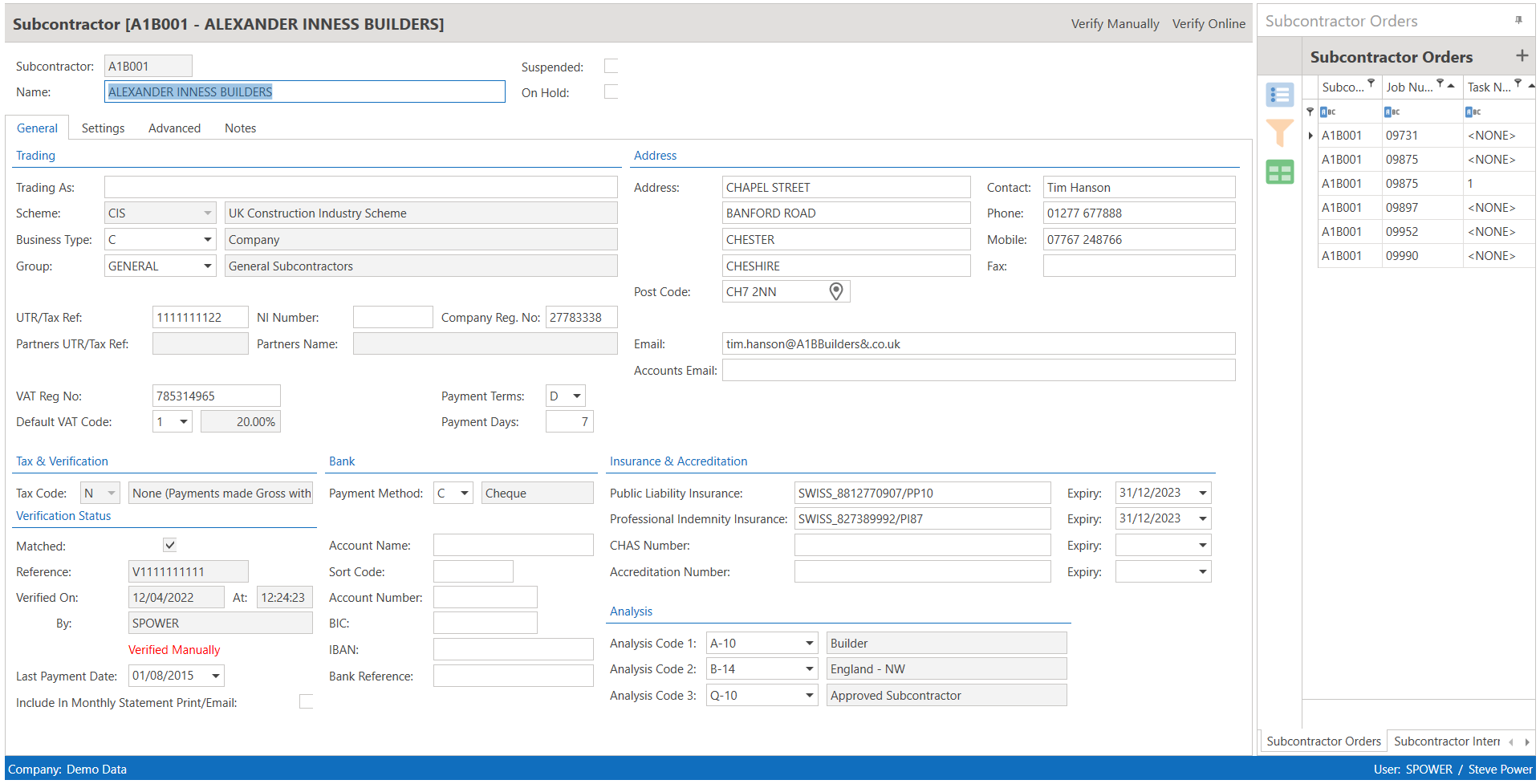 Labour
Timesheet entry/import
Posting to payroll
On-costs from payroll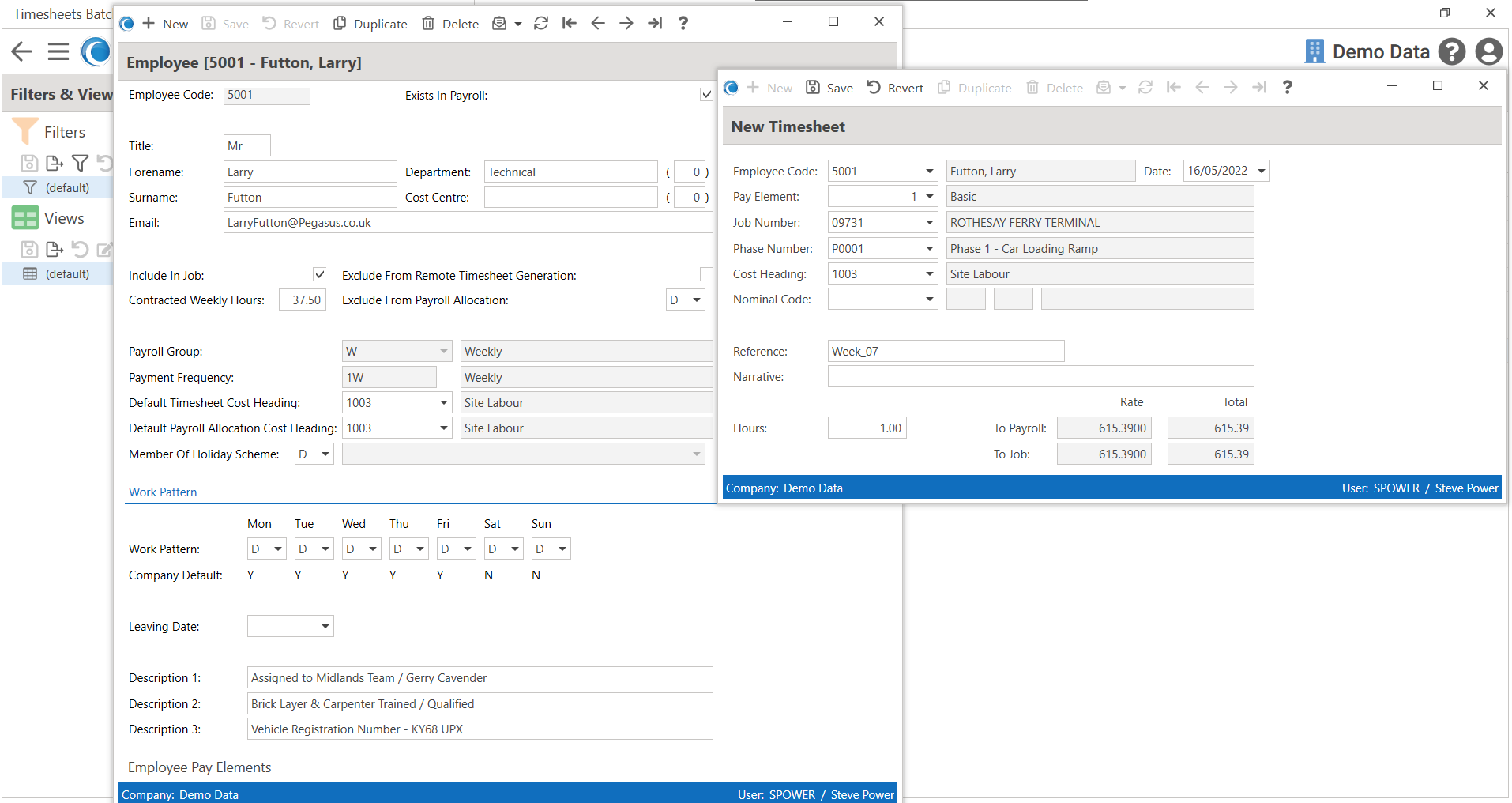 Document Management
Electronically store files against individual contracts.
Reduce admin costs
Save time finding documents
Enhance security
Improve environmental credentials
Eliminate document loss
CIS 5 pre-recorded webinar
We are excited to announce the release of Pegasus CIS 5, our contract costing solution. In this webinar we will walk you through the new product so you can see it in action, and get an overview of all the new and improved features.