Wouldn't it be useful to manage your entire customer and prospect relationships from one platform? With Opera 3 CRM (Customer Relationship Management) that's exactly what you can do. It integrates fully with the Financials and Supply Chain Management applications so you can better manage existing customer relationships and win new customers.
What is Opera 3 CRM?
Opera 3 CRM gives you clear visibility into all stages of the sales process. From the first point of contact, you can manage prospects, convert prospects to customers, manage the customer relationship, report on their profitability and increase your business potential with them, all from one solution.
By streamlining your marketing activity and sales cycle, Opera 3 gives you the power to manage progression from prospect to customer. It helps make sure you never miss an opportunity or lose sight of a customer, and gives the sales team vital access to all prospect and customer information, even when on the road.
Once a prospect becomes a customer, you can continue to log activity such as mailings, conversations, tasks and promotion. Opera 3 CRM integrates with Outlook, Excel and Word so that you can manage your communications.
 Seamless integration with Supply Chain Management and Financials eliminates re-keying and ensures account information is always close at hand.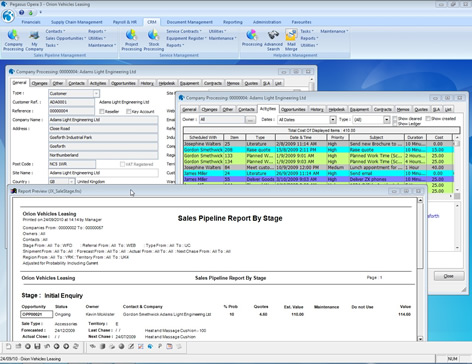 CRM Remote – access on the road

When your sales team is out on the road, it is essential to be able to manage SPM data on the move. CRM Remote allows users to work offline with CRM and other Opera 3 related data with synchronisation of the CRM data back to the main system via a virtual private network (VPN) or local area network (LAN) connection.​
Overview
Fully integrated application for Opera 3 eliminating the need to maintain data on several systems
Maintain company details: single point of entry for new prospects or cross-reference existing customers/suppliers from the Sales/Purchase ledgers
Maintain unlimited contact details (including site addresses) within a company
New contacts can automatically update your Microsoft Outlook address book
User definable fields and look ups for Contact, Company, and Opportunity forms
Send e-mail/e-shots and import incoming e-mail from Microsoft Outlook 2003
Record notes and history against a contact
Remote access available for sales people on the move
History automatically updated by activities that take place such as letters and mailshots
Record and track sales opportunities against a contact
Quotations can be generated for a customer or prospect and associated with a sales opportunity
Book appointments with a contact. These can be added automatically to your Outlook diary and recorded against the contacts history. Log 'to do' tasks against a contacts, opportunities, helpdesk calls or contracts.
Send e-mails via Microsoft Outlook for a contact or group
Generate mail shots (using Microsoft Word) for list of contacts/groups
Convert prospect/quotation details to live customer/sales order
Flexible reporting system via CRM reports, Excel allowing easy customisation
Sales funnel report
Sales forecasting reports, adjusted for probability. Analysis of sales by status/user/contact/company for a given date range.
Activity Reports, including time based reports
Set up call templates which also allows the automatic creation of Sales Opportunities when logging new Helpdesk Calls. Opportunities are added into the pipeline instantly; all linked back to the Helpdesk Call
Update all staff Outlook calendars via Outlook Meeting Request. All activities throughout CRM, and also any meeting requests to engineering/external staff through both the Summary and Resource Scheduler; can be added. What's more, meeting invitations can be sent to one or more internal or external contacts. The recipients of the e-mail can then either accept the invitation, or reject it.
Opera 3 CRM pre-recorded webinar
In today's hectic business environment, employees need more tools and information to win new customers and manage existing customer relationships. With Customer Relationship Management (CRM) you gain total control over customers and prospects, whatever your goal.